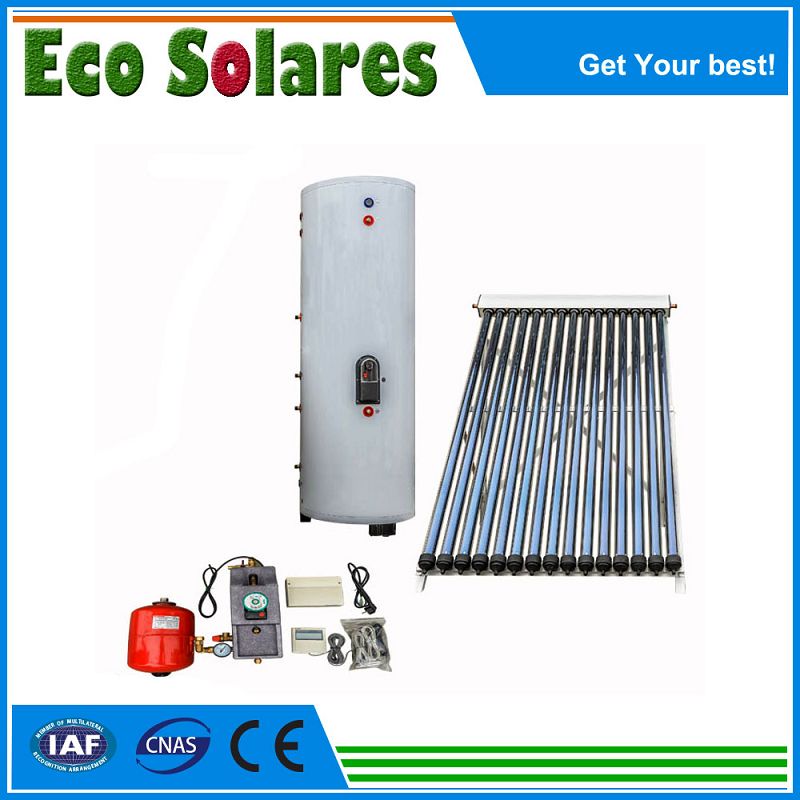 Description
Specification:

Include

pressure tank,pressure solar collector,

working station,expansion kit,controller,pump.

Working pressure

0.6Mpa.

Daily efficiency

1.>55%(>42% in winter)

Heat preservation

72h-80h

Electrical element

72h-80h

Electrical element

1500w-3000w

Heat pipe anti-freezing

-35c.

Advantages:

1.New manifold,more stronger;

2.The frame can be adjusted;

3.Easy installation;

4.Tail stock support is made of stainless steel or aluminum alloy.

Feature:

1.Module design,arbitrary combination,harmony with the building perfectly;

2.Intelligent control and automatic operation;

3.Anti-freeze:using the anti-freezing liquid as the medium and the controller has the anti-freezing function;

4.it can be combined with existing pipeline

5.Multifunction:bathing,washing,domestic heating,etc;

6.Working at anytime and enjoyable.

Material:

Inner tank:

SUS304,thickness 1.2mm/1.5mm/2.0mm

Out tank

PVDF steel white color /Grey color

Heating exchanger

copper,12mm-diameter,0.8mm thickess,15m-20m

Electrical booster

1500w/2000w/3000w

P/T valve:

AKE brand

Circulation pump:

Wilo brand

Expansion tank:

Italy brand

Controller:

Shuangri brand

Collector:

Shinesea HPC Series

Working principle:

The collector absorbs solar energy and transmits it to the water tank through circulation.

When the temperature of the collector reaches the set value,the controller starts the

circulation pump automatically.

Location:

Collector maybe installed either on the roof or wall while water tank may be installed

at any place in a villa flexible .collector harmonizes with villa's outlook and maintains
Parameters of Split Solar Water Heater

Model

Collector Model

Capacity

20'GP

40'GP

40'HQ

HX-SP-58-15

HT15-58/1800

150L

33

67

80

HX-SP-58-20

HT20-58/1800

200L

28

58

68

HX-SP-58-24

HT12-58/1800

240L

26

53

62

HX-SP-58-30

HT15-58/1800

300L

20

40

48

HX-SP-58-36

HT12-58/1800

300L

18

37

43

HX-SP-58-60

HT20-58/1800

500L

13

26

32
Trade Items Of Product
Payment

T/T,L/C,West Union/Secure Payment

MOQ

1 Set

Port

Shanghai/Ningbo

Package

Standard carton for whole container products

Wooden Box Package for sample order

Delivery

7 days after deposit received.

Supply Ability

100000 Sets / Year
Our Service
1.) Inquiry Response: Your Inquiry will be replied within 24 Hours
2.) Sample Order:3--7 Days for sample order
3.)Can do OEM Basing on your detailed Request
RAQ
1.Is it very expensive?
When compared to an electric heater the solar heater may sound slightly expensive.
But a solar heater will pay back its investment in 2-3 years, through recurring energy savings.
You may also be eligible for rebates on your electricity bills in some states.
2.What could happen if water supply is irregular?
Incase cold water supply is interrupted during the day , the heating of water by the solar system
may not be affected significantly, although hot water cannot be drawn for use till the water supply
is restored
3.Will I get power and hot water from this system?
No, Solar hot water only heat water. They do not generate electricity from sunlight.
As the sun hits the glass tubes, water gets heated and flows back into the tank.
Solar electric panels are made of silicon and convert sunlight directly into electricity.
They are different from solar hot water heaters.
4.What will happen on cloudy days?
The ETC model solar water heater will continue to function even on cloudy days
due to heat absorption from the infrared rays of sunlight. Efficiency would be affected on rainy days.
5.Can I get hot water during early morning when sun is not there?
Hot water produced by the solar system during the day is stored in an insulated storage tank.
The insulation of the tank is such that the water remains hot without significant drop in temperature
for around 24 hrs. Thus water heated during the previous day is available for use the next morning.
6.What are the Maintenance requirements?
ETC solar water heating systems do not need significance maintenance.
The collector tubes may need annual cleaning to remove accumulated scale and sediment deposits
at the bottom. The system is resistant to adverse effects of weather as it is made of stainless steel.
7.Can I use Hot water from the solar water heater in the evening or night?
Using the hot water in the evening or night will result in hot water being unavailable
the next morning as the system will not heat water overnight. If you wish to use hot water
in the evening too, then choose a larger capacity of solar water heater that meets your needs.